December 2022
Remastering "And Worms Do Not Destroy"
This month I remastered a six-part audio fiction mini-series… which will launch soon on its own podcast feed… right here on Substack…

• And Worms Do Not Destroy (Audio Fiction Podcast, rerelease)
And Worms Do Not Destroy
(Audio Fiction Podcast)
A few years ago I wrote and produced an irregularly scheduled audio fiction anthology. One of the stories I released on that podcast feed in 2020 was the fantasy-adventure tale And Worms Do Not Destroy. Here's the synopsis:
Somewhere and somewhen on the perilous island of Naosaleyn, a mythic odyssey challenges a pair of barbarian brothers as they set off on an arduous pilgrimage to beseech The Blessed Immortal King • Starring Steve Rudolph. Featuring Cary Michael Ayers, A.J. Beckles, Julia Eve, Sarah Golding, Karim Kronfli, Owen McCuen, and Elizabeth Novotny.
This is a hybrid audio fiction story, in that it uses both prose narrated by a reader and characters performed by actors.
Since that anthology no longer exists, I found myself wondering how best to share this six-part, three-hour story so it didn't simply evaporate into the ether. Well, turns out Substack offers some podcasting tools, so hey! This month I remastered the show and will release it on its own feed in January. This is also a good opportunity to see what the Substack podcasting service is like, might be just the thing for new work in the future, especially because I'd rather do multiple short order series.
As early as next week I'll upload the new trailer. In the past I've silently launched a show with its trailer, so I have time to propagate the RSS feed to the usual podcatchers (Apple, Google, et al) before releasing the first episode, so it's all ready to go when I link to it.
It's my understanding, that if you've subscribed to this newsletter, you'll automatically receive weekly emails when episodes are posted each Sunday (Part One on January 8th— all the way through Part Six on February 12th).
Again, I haven't done this before, but I think you'll have the option to click the email to listen to the episode directly in your browser. But, I'll hopefully also have all the other podcatchers set-up by the first episode, so you can find it where your other podcasts live, if you'd prefer to listen that way.
Now, what do I mean by remastered? Well, I just went through each episode's timeline again, cleaning up stray bits and bobs, maybe tightening some timing, as well as letting other moments relax a little. Swapping out a sound effect or two, but not many. Mainly EQ-ing the narration a bit more. It's roughly 90%, 95% the same, or more? But, since I was going to release the story as its own show, and on its own feed, I thought I'd put the time in and take the opportunity for a few tweaks.
Some background on the story itself:
Around 2011, after writing my novel Fire on the Mound, I wrote seven short stories also set on the island of Naosaleyn— side-adventures intersecting the novel with tangental tales throughout time. The idea was to have a second novel-length book filling out the mythology of the island.
Here's a small map of Naosaleyn, which features events from the podcast novel:
The seven short stories not only had the island in common, but also a character named Ashtooth the Emberwyrm (see this bastard below!).
Some of the stories mention Ashtooth in passing, while others feature the Emberwyrm as a central figure. For example, in one story, the Great Emberwyrm simply appears as a red bottle, shaped in the emberwyrm's likeness, sitting on the shelf of a medicine shoppe. Inside the bottle is a humor good for heartburn. In another story, a guy named Uargaeth suffers the full terror of the Great Emberwyrm's wrath (the dude seen in the artwork below).
If you're not familiar with Fire on the Mound —no worries, that won't hinder your understanding of And Worms Do Not Destroy —not in any way. Although they share some of the same geography and cosmological background (such as the Jivapanthis, which are celestial spirits) they have nothing in common as far as plot. In fact, strictly speaking, And Worms Do Not Destroy is itself a fantasy story within the fantasy story (in other words, a story the people on the island of Naosaleyn tell one another). But, this framing device is neither here nor there in the immediate scheme of things.
At any rate, you can just listen to the mini-series on its own.
Pictured below, I thought it might interest you to see the audio timelines of each episode. These screenshots are from Adobe Audition, the program I used to edit the dialogue and create the sound design. If you click on each of these in your browser, you can check a closer look (doesn't seem to work directly in email).
You can see I am a fan of using markers to indicate key moments…!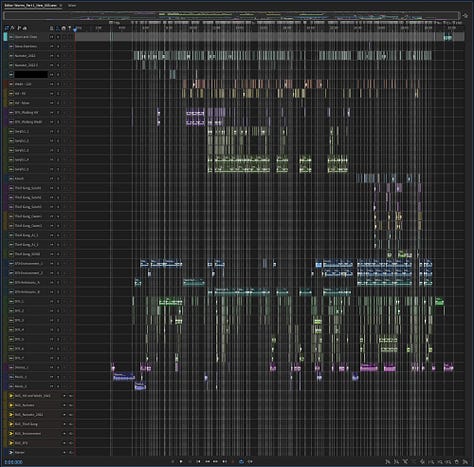 Episode break-down:
Part One: The Thief • 29 minutes • 355 sound files • 38 tracks • 6 buses

Part Two: The Volpa • 22 minutes • 189 sound files • 29 tracks • 5 buses

Part Three: The Magnate • 26 minutes • 358 sound files • 50 tracks • 11 buses

Part Four: The Messengers • 38 minutes • 412 sound files • 66 tracks • 16 buses

Part Five: The Minister • 31 minutes • 297 sound files • 71 tracks • 18 buses

Part Six: The King • 37 minutes • 325 sound files • 59 tracks • 15 buses
Some episodes include pre-mixes, which you can think of as "collapsed tracks." For example, the festival in Part Five was built from the following:
8 tracks of Ensemble walla, including Elizabeth Novotny and Cary Michael Ayers speaking a fantasy language, duplicated and pitched, added to crowd sound effects)
5 tracks of people walking around the festival grounds
4 tracks of farms (to indicate the animal market at the festival)
1 track of dancing
2 tracks of bell shaking to accompany the dancing
1 track of celebratory zither music (huzzah, Harry Lime!)
2 tracks of fireworks
1 track of wayward dogs
2 tracks of desultory horses
1 barn track to add some cows here and there, and
1 background track of birds and crickets for the city's general ambience.
I exported these 28 tracks into 6 separate .wav files, grouping them by type (as seen in the next two images). This way I could duck each group in and out in volume, to focus attention as the scene might require.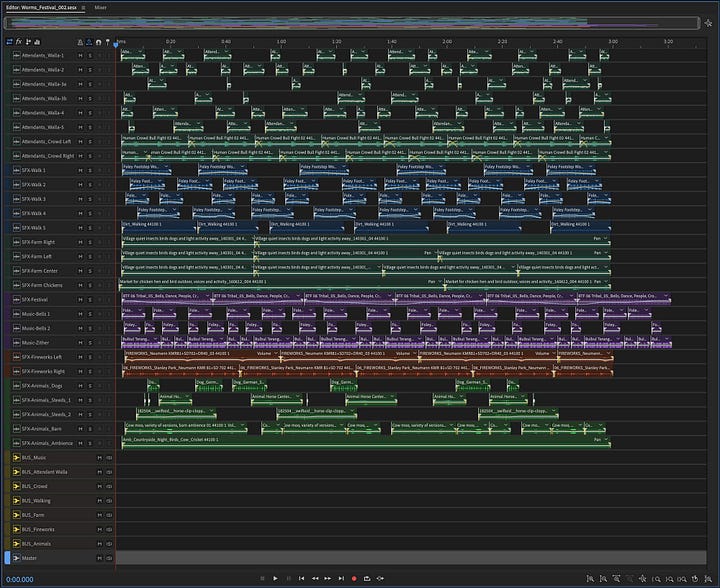 Here's a short excerpt from the festival for you. In the order they play:
[1] Walla (background speaking) [2] Walking [3] Animals [4] Farm Ambience [5] Fireworks [6] Music and Dancing [7] All of them together, plus Steve Rudolph playing Wedit and the Narrator.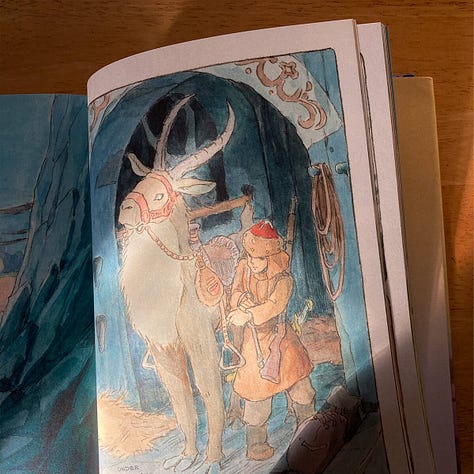 Okay, I'll close this month by mentioning some books I've read recently.
I've long-anticipated reading Hayao Miyazaki's Shuna's Journey, previously unavailable in English. It's apparently more of an illustrated story (emonogatari) than a comic (manga) —which I didn't realize going in. Just as a point of reference, my favorite story of all time is the manga version of Miyazaki's Nausicaä of the Valley of the Wind —which he started before the film but finished after it— and so my expectations were, perhaps, unreasonably high. Reviews characterize Shuna's Journey as a proto-Nausicaä and/or Princess Mononoke. By the end of it— yes, it does seem to live in that general fantasy-apocalypse milieu in which Miyazaki excels. The watercolor paintings are beautiful, I'll say that, though the story is pretty sparse. Miyazaki planned to make a film of Shuna's Journey— but alas, he did not. I can imagine it would have been quite a haunting movie, if he had kept the plot so gestural.
These past few weeks I re-read Thomas Merton's Zen and the Birds of Appetite for, I think, the third time. I'd like to imagine I understand it a bit more with each read— but that's probably not the case. If you don't know Merton, he was a Catholic monk who often wrote about Eastern traditions. This particular book compares and contrasts Zen and Christianity, their more mystical inclinations.
And lo, the bookmark I found inside Birds was a blast from the past: a partial ticket from a Rubén Blades concert! I saw him back in the day in Madison, Wisconsin. I presume I bought the book around the same time (maybe somewhere on beloved State Street). I am guessing I used the ticket out of convenience, rather than some preservational instinct.
Now I'm reading Vonnegut's Slaughterhouse-Five, one of those books you'd think I would have read by now, at least in school or what-have-you, but no. In fact, this is the first Vonnegut I have ever read, mostly spurred by recently watching his hilarious "Shape of Stories" lecture. Which I now embed below for your edumacation.
okay, thanks for reading—
peace,
—william
p.s. you are forever invited to ask questions in the comments
p.s.s. I write this on what would have been Stan Lee's 100th birthday, December 28th, 2022. Obviously his work has had an immeasurable impact on me. For one thing, he taught me the word milquetoast (readers of his run on The Amazing Spider-Man know what I'm talking about!)
Although I never met Stan Lee, back in 2013 I saw him at an awards ceremony and got to hear him present a rousing speech about the human spirit and always keeping your chin up and damn if he didn't shout "Excelsior!" right in the very same room I was in—
Subscribe for free to my Substack Newsletter to receive new posts and support my work.