Jan/Feb 2023
Re-released mini-series audio fiction, (Mostly) produced one-shot audio drama
January and February saw posting old stuff and making new stuff.

• All Praise the Ikon (Audio Drama One-Shot, new stuff)
• And Worms Do Not Destroy (Audio Fiction Mini-Series, old stuff)
• The Transposition of Chloë Brontë (Audio Drama posters)
+ Audio Drama Newsletters and Interviews …for You
All Praise the Ikon
(Audio Drama One-Shot)
As February started, I became aware of a free entry coupon for the Tribeca Audio Storytelling Festival. I didn't have anything that fit the requirements, but then figured I must have some short piece I could produce in three weeks or so to meet the submission deadline.
I chose my ten page play All Praise the Ikon. I've mentioned this play in this newsletter before. After a few more drafts, it became a fifteen page script.
I cast four actors and later found a fifth to sing the title. The current cut is 33 minutes. I want it to be shorter. Tribeca accepts works-in-progress, so I sent it along, although I will be working more on the EQ, the mix, the crowd walla, and other bits and bobs. I also want to add some more drones, and a spot more music. And, my computer crashed …and not a few times! I think the culprit is a free plug-in I installed recently. To be determined. Regardless, we made the deadline.
I'll wait to announce the cast when the piece is closer to release— however, you might recognize one of the performers if you watch the short tutorial video below.
How to Make a Simple Hologram Voice Effect in Adobe Audition Using Built-in Tools. I put this together to share a technique I stumbled across while messing around with different effect parameters.
And Worms Do Not Destroy
(Audio Fiction Mini-Series)
I re-released this prose + performance hybrid show on its own RSS feed. Therefore, you may hear this antediluvian journey overflowing with barbarian sibling tensions from a variety of digital emporiums:
Worms On Apple Podcasts • On Google Podcasts •
On Spotify • On Substack • On YouTube • On Podchaser
You may also visit the Official Site to learn more about the cast. Starring Steve Rudolph. Featuring Cary Michael Ayers, A.J. Beckles, Julia Eve, Sarah Golding, Karim Kronfli, Owen McCuen, and Elizabeth Novotny.
Here's the synopsis:
Somewhere and somewhen on the perilous island of Naosaleyn, a mythic odyssey challenges a pair of barbarian brothers as they set off on an arduous pilgrimage to beseech The Blessed Immortal King
Here's the trailer, if you haven't heard it:
The Transposition of Chloë Brontë
(Audio Drama posters)
Uploaded three Chloë posters to this here Substack— click this to see them larger (scroll down a bit to the gallery).
+ Audio Drama Newsletters and Interviews …for You
If you're looking for newsletters focusing on Audio Drama and Fiction, either as a listener or as a creator, here are a few I can recommend. Also, they've been kind and helpful in promoting my work.
Sarah Golding writes the Quirky Voices' Newsletter. Sarah has played hundreds of gazillion audio drama roles (an estimate) and is also a monumental figure of positivity and a stalwart representative of the audio drama community.
W. Keith Tims' The First Episode Of is an interview program with indie creators, offering a slew of keen perspectives (and I was a guest about a year ago! —fyi: I erroneously say "Master of Arts" when I mean "Bachelor of Arts"— wishful thinking).
The Fiction Podcast Weekly is just that— weekly podcast fiction— flooding you with a deluge of news, events, classes, meetups, resources, jobs, and more— all related to audio storytelling. Edited by Lindsay Harris Friel and Sarah Golding.
The End is Evo Terra's weekly newsletter highlighting audio fiction programs which have completed their run— done and done. This newsletter also tallies the total running time, which is neat (And Worms Do Not Destroy is 3 hours and 3 minutes, apparently).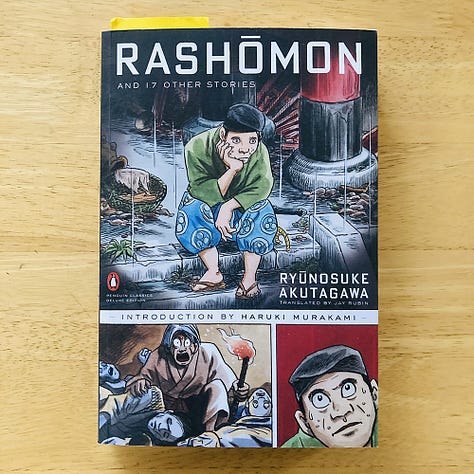 So— I am now the unintentional owner of three versions of the short story "Rashomon." Sadly, they are not all different translations, which would have been, perhaps, comically appropriate. I picked up the Ryūnosuke Akutagawa short story collection (pictured on the left) only knowing "Rashomon" and "In A Grove"— the two stories which formed the basis for Akira Kurosawa's 1950 film Rashomon.
The center picture is of a collection of reviews and commentaries on the Kurosawa film. It also includes the two short stories, as well as the film's continuity script. The third picture is of the Criterion DVD insert booklet, which also includes both short stories. Movie critic and scholar Donald Richie was the editor of the middle volume. So, I figure this is a good time as any to tell my Donald Richie story…
Back when I lived in Madison, WI they had a Japanese Culture Week. The kick-off event one year was a screening of Rashomon— introduced by Donald Richie himself. Now, I was surprised to discover this, he didn't seem like someone I might casually spy strolling down State Street. I was surprised, too, being that he lived in Japan at the time, something of a hike. But, I was thrilled— I had several of his books on Kurosawa, and had listened to many of his DVD audio commentaries. And, since he was actually on set for a number of Kurosawa's films, I was like— heck yeah.
The lecture was about an hour, covering the history of Japanese film— at that time, about 100 years. Richie gives his presentation and disappears back stage.
The film begins. First off, projected on the screen— the Criterion DVD menu…! Groans emanate throughout the theatre. Guess we all thought this was a 35mm print. Or, at least, 16mm (which is how I first saw Rashomon in the University of Wisconsin-Oshkosh screening room— an intimate cinematic space I still treasure— hope it's still there). Well, we settled in for a so-so video projection.
Now, as you may or may not know, the film begins with rain and rain and more rain. No one speaks for several minutes as the characters huddle beneath the titular gate. Then— to our collective dismay— the first words waft from the screen— and they are in English. More grumbles! Why would they play the most famous Japanese film of all time to celebrate Japanese Culture Week… IN ENGLISH?!
Well, the audience was none-too-happy. But, having just seen the DVD menu, I figured, if nothing else, I could set things right myself. So, I got up and went back to the projection booth (I'm a former projectionist, fyi— and DVD owner, lol).
I knock on the booth. Nothing. Knock again. Nothing again. I hear a voice behind me.
"What is this?" Donald Richie gruffly asks me, perturbed, his brow stitched by the sharp needle of consternation.
In that moment, I feared he thought I was responsible…!
I think I replied "This is dumb!" or some other eloquent agreement of cinematic injustice.
Donald Richie steps past me and knocks on the door. Again, nothing.
"Hey," says a voice.
We turn and see the projectionist approaching, arms loaded with snacks and drinks.
"What's up?" he asks, nonplussed.
"Why are you playing Rashomon in English?" asks Donald Richie.
I fold my arms with a silent harumph.
"Isn't that what you want?" asks the projectionist.
I mean— uh. What.
"No, we don't," says Donald Richie.
I nod and narrow my eyes in grim agreement.
"Okay," says the projectionist, shrugging. He enters the booth.
Donald Richie and I share a taciturn understanding of victory. He disappears.
I return to my seat. We all watch the projectionist navigate the DVD menu to switch the movie to Japanese. Cheers erupt. At this point, what— fifteen minutes of the movie have passed? Maybe twenty? The guy directly behind me taps me on the shoulder. "Good job," he whispers. I accept the adulation.
The film switches to Japanese. And keeps playing. Right. From. There.
More groans trickle through the auditorium. "Start it over!" people shout.
I'm thinking, this guy.
Finally, with the audience's umbrage as unrelenting as the rain upon the gate, the movie kicking off Japanese Culture Week begins again, and in Japanese. Though, between you and me, for those first several minutes without dialogue, I kept thinking, "I bet he switched it back to English." Thankfully, no!
Okay, well, I figure that's the closest I ever got to a Kurosawa movie set, b/c I believe in the associative property of Kevin Bacon degrees and whatnot.

Thanks for reading—
peace,
—william
Subscribe for free to my Substack Newsletter to receive new posts and support my work.